About Meditation House
Meditation House was founded in 2015 by Director and lead Meditation teacher Dan Globus. Dan did his first Meditation five decades ago (you would never guess this after meeting him). He was taught by an ordained Tibetan Buddhist Monk traditional Tibetan Buddhist, Vipassana and Mindfulness meditation techniques and has been teaching for eight years primarily focused on non-corporate groups and private classes via our company The Compassion Center. Towards the end of 2017, we have started to focus more on the corporate-end of the business.
"It has become quite clear that the average New Yorker is struggling to find time before and/or after work to attend meditation classes. When we don't see people coming to classes over a period of time and reach out to them, we hear 'I love to come to the classes, but I'm just so busy at work and too tired when I get home.' With the understanding that many people are in this situation, it is clear that we need to be able to offer Meditation in some form within corporations. Our biggest challenge has been to educate corporations on the benefits of Meditation."
Dan's approach to teaching Meditation to corporations is a little different from the "Mindfulness" classes that are being offered to corporations. Dan has taken his training in Tibetan Buddhist Meditation, Vipassana and Mindfulness meditation techniques and created classes and programs that corporations are responding very positively to. These are completely non-religious classes that still make use of traditional Meditations and techniques to help employees address both business and personal issues.
"Our Meditation programs help employees to address various challenges they face in work including learning how to accept criticism and rejection, learning how to quiet the mind and focus all attention on clients and within meetings, how to relax before big meetings and presentations, how to build confidence, and how to quiet the overactive mind when it's time to sleep so that they can sleep deeply and wake up well-rested. People feel very focused after our meditations and feel like they get much more work done when they return to their desks. Employees feel creative, productive, and very relaxed after our Meditations."
We are constantly trying new techniques and offering new approaches so that we can offer different types of corporations different programs. In addition to offering in person classes, we make content available via password protected archives that employees can readily access. This includes guided Meditations, information on how to address various challenges, recommended reading, and more.
"When deciding whether a Meditation program has value to your organization, I recommend that you invite a Meditation teacher to your facility and have them provide a Meditation class. Survey the attendees after the class and find out what their impressions were of the teacher and the material covered. If the general consensus is positive, then sit with the teacher, discuss goals that will benefit the corporation, and ask the teacher to put together a program. This is my advice to any corporation considering Meditation for their organization."
Teaching Meditation Classes to a NYC tech Company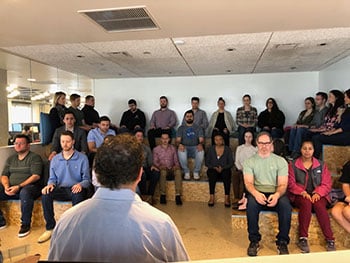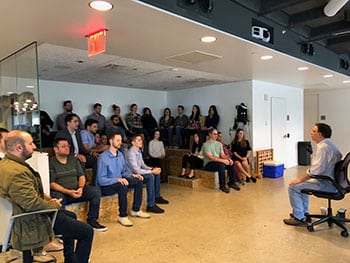 Corporate Meditation Classes NYC
Corporate Meditation Classes taught in NYC, Long Island, upstate New York and New Jersey. As most corporations do not know what to expect from a Meditation program, we recommend that you first book an Intro to Meditation class. These are one hour classes taught at your office (or a separate space) where employees have an opportunity to learn how to meditate, experience a guided Meditation, ask questions, and learn how Meditation can be effectively used in the corporate environment.
Would you like to experience one of our classes? You can book one of our corporate Meditation classes by clicking the "Book Your Meditation Class" button below. Our "packaged" corporate Intro to Meditation classes are intended for groups of up to 40 people where the business is located in New York City.
However, if you are located outside of New York City, if you are a group larger than 40 people, or have any specific requirements, click here to contact us.
(*) If you have specific needs, have a specific subject/topic you want covered in the Meditation, want the class on a specific day and time that is not listed in our booking calendar), click here to contact us or call us directly at (888) 377-7761.
What Style of Meditation Do We Teach?
Did you know that there are different styles of Meditation? The most common style taught in corporations is "Mindfulness". We include Mindfulness in our teachings, however, we are unique in our corporate teachings. We work on setting "goals" and teach employees how to see and achieve these goals through Meditation. These goals may include how to become more confidant, how to prepare for big meetings, how to remove anxiety and stress, how to relate better to fellow employees, how to wind down at night and get restful sleep, and so much more.
Who Teaches These Classes?
Dan Globus is the lead Corporate Meditation Teacher and Director of Meditation House. Dan started meditating several decades ago and was trained by a Tibetan Buddhist Monk, Lama Thupten Phuntsok. Our Meditation classes are based upon traditional Tibetan Buddhist, Mindfulness and Vipassana Meditation techniques. The classes are completely non-religious.
Our corporate classes include:
Breathing Techniques to quiet the mind and assist in entering a meditative state
Body Scan & Relaxation Techniques
Guided Imagery
Visualizations
Goal/Intention Setting
Removal of Impediments (stress. anxiety, lack of confidence)
Employees participating in our corporate Meditation programs will:
Exhibit greater productivity and higher performance
Acquire a more positive outlook
Have reduced absenteeism
Have more confidence in their decision making
Have more confidence in their presentations
Exhibit a greater sense of creativity and clarity
Develop  strong leadership skills
Handle stressful situations and business stress far better
Become a better negotiator and not allow negative emotions to affect you
Even though we primarily offer classes that are fixed based upon the amount of time of the class, days they are offered, time of day when they are taught, we can create a custom Meditation program that meets your needs. We will create a custom Meditation program based upon:
The number of classes you want (e.g. once per week, twice per week, each day of the work week, weekends)
How long you wish the Meditation to be (e.g. 20-30 minutes, 45-60 minutes, 60-90 minutes)
The number of people in the class (e.g. 1, 2-5, 5-10, 10-20, 20-40, 40+)
Your corporate goals/needs.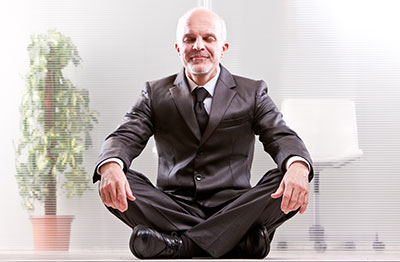 QUESTIONS ABOUT CORPORATE MEDITATION CLASSES?