10-Class Virtual Corporate Mindfulness Program
Bring virtual mindfulness classes to your employees at a fraction of the price of any program offered by professionally trained mindfulness teachers. You can now book this 10-class Virtual Mindfulness program and bring the benefits of mindfulness to your employees.
This is the most comprehensive virtual mindfulness program that has ever been offered to organizations at a fee that is within almost any organization's budget. It was specifically designed to allow organizations to evaluate how mindfulness can positively affect them.
The program is conducted via Zoom or Teams and includes 10 classes of approximately 30 minutes each for up to 100 employees (class times can be 15 minutes instead of 30 minutes upon request). Not only will your employees experience mindfulness classes led by one of the leading corporate mindfulness instructors, Dan Globus, but they will also have access to an archive of audio files that will help them build a mindfulness meditation practice and address various challenges. The Learn to Meditate and guided Meditation audio files are worth far more by themselves than the cost of the program.
FAQs
Q: Can we try one class before signing up for the 10-class program?
A: Yes. In fact, it's best that you try one of our classes before committing to the 10-class program. We recommend trying either our 30-minute class or our 15-minute class.
Q: Is this the only mindfulness program you offer?
A: No. Meditation House can create a custom Mindfulness program according to your needs. Please contact us with your specific needs so that we can can create and submit a quote for a custom Mindfulness Meditation program for your organization.
Q: Can we order multiples of this 10-class program?
A: Yes. Please contact us and let us know how many classes total you would like in your program and we will create a quote for you.
Q: Do you offer discounts for a program that is more than 10 classes and/or for more than 100 employees?
A: Yes. This would be a custom program. We create specific programs with the number of classes, length of time, and number of employees. Please contact us with your specific needs so that we can create a custom quote.
Program Details
10 classes of 30 minutes each (classes are 30 minutes unless you prefer 15 minutes).
Up to 100 employees can attend.
Prior to the start of the program, participants will receive a questionnaire. This questionnaire will allow you and Meditation House to create a baseline so that we may judge the effectiveness of the program upon completion. Upon completion, participants will be asked to complete a survey. All data will be provided to you in report format.
Classes can be scheduled as 1-5 classes per week (i.e. this program can last anywhere from 2 to 10 weeks depending upon how you wish to schedule it).
Attendees can attend each class via desktop or laptop computer, via iPad, tablet, smartphone (iPhone or Droid) or traditional telephone.
Each class is a Live guided mindfulness meditation class.
Participants DO NOT need any previous experience to participate and benefit from the program.
Participants do not need a visual display of the teacher. They can simply listen to and follow along with the audio.
The first few classes are dedicated to the basics of mindfulness including proper ways to sit, breathe, how to deal with distractions, how to quiet our thoughts and more.
The remainder of the classes are dedicated to "themes" including how to quiet and focus the mind before meetings, how to become aware of anxiety and stress in the mind and body, how to calm compulsive urges, how to listen more attentively to clients, how to tap into creativity, and more.
Attendees are granted password-protected access to our audio archive. This contains various themed meditations that help people address their challenges.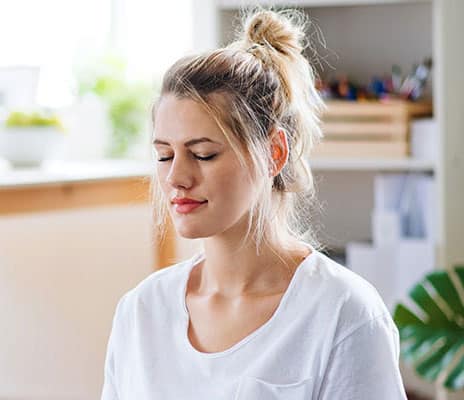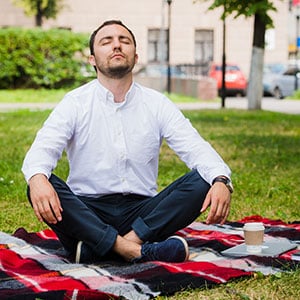 Pricing
Price: $2,500
Class Time: 30-45 minutes
Platform: Zoom or Teams
10-Class Virtual Corporate Mindfulness Program Order Form