Mindfulness Programs for Corporations
Mindfulness Programs for Corporations
Meditation House has been providing mindfulness for employees since 2015. We offer two types of mindfulness programs for corporations. The first is a custom mindfulness program. Let us know what your goals and any specifications and we will work with you to create a unique program for your organization. The second is our 10-class virtual program for corporations. It is intended for up to 100 people (but can be customized to any number of employees). Our 10-class program is intended to introduce Mindfulness to an organization. If you want to set the number of classes, set the days of the week and time(s) for the classes, possibly set the content, and have greater flexibility, we recommend choosing our Custom Mindfulness Program. Please click here to fill out the form below to get a Custom Mindfulness Program quote.
10-Class Mindfulness Meditation Program for Companies
Our 10-class mindfulness program for corporations was created with value in mind. We wanted to offer a mindfulness for employees program that was financially attractive while at the same time providing enough classes and content to make a real difference in employees' lives. This program is intended to give HR managers an opportunity to "test drive" a mindfulness program to determine whether there are measurable results that will positively affect the organization at some level; whether financial or otherwise.
Meditation is not new to the corporate world. Most major corporations now have various health-related programs in place to keep their employees happy and healthy. The Chopra Center has a nice article on which corporations are utilizing Meditation and the benefits of these programs.
(*) Meditation House had been teaching mindfulness programs for corporations live, in each organization's facility, prior to the start of the COVID-19 pandemic. Since the outbreak of the pandemic, all mindfulness classes have been taught virtually via Zoom, Microsoft Teams, Google Meet, and Webex.
Custom Mindfulness Meditation Program for Companies
Our custom mindfulness meditation program allows you to create a well-being solution for your employees that is customized to you and your employees' needs. When considering bringing a mindfulness meditation program to your company, you may wish to consider the following:
What are my goals for this program?
This may not be clear. You have read or heard from associates that mindfulness meditation programs bring benefits to companies and their employees. However, are you clear on what the ultimate goal(s) of the program is? As we love to talk with people, why not reach out to us, and let's discuss what realistic goals and expectations should be.
What days and times are my employees available for these sessions?
One of the mistakes that so many companies make is that they do not survey their employees to find out their available for the mindfulness sessions for their employees. Even if you must choose a specific day and/or time for the classes, we recommend that you still survey your employees to see if they can and will attend the sessions. HR managers find out very quickly that when they somewhat arbitrarily choose a day and time for mindfulness sessions, employees do not attend these because the day and/or time conflicts with their schedules.
What is your company's budget for the program?
To get a sense of what your program may cost, you can visit the 15, 30, 45, and 60-minute classes pages or simply click here to see all of our pricing. The prices that you see are based upon one(1) class. We take these prices and apply very generous discounts to create program prices.
What Are The Topics & Goals of Our Mindfulness Programs for Corporations?
The primary goals of our mindfulness programs for corporations are:
Reduce and Remove Anxiety & Stress
Build Confidence
Create a Stronger Desire to Further The Organization's Goals
Increase Creativity and Problem-Solving Abilities
Build a Stronger Connection to Other Employees
Bring Happiness and Joy into The Employees' Lives
Better Coping Mechanisms to Deal with the Daily Ups and Downs
Each class will give the employee a specific guided Meditation to help address different challenges they may be facing.
(*) The audio of each Meditation class can be recorded and made available for download via your website or our website (at no extra cost). We will not record the audio if you do not wish.
Here are some topics that we teach in organizations (these can be adjusted to meet each organization's needs):
Overcoming Fear: getting at the root of what causes anxiety, stress, panic attacks
Building Confidence
Learning How to Unwind without the Need for External Substances
Addressing Anger
Love and Compassion for Ourselves, Co-Workers and Everyone Around Us
Dealing with Loss & Grief
Removing Self-Doubt
Removing Negative Emotions and Thoughts
Learn to Sleep Like a Baby and Get Up Fully Rested Each Day
Finding Joy and Happiness
The 20-Minute Work Reset: feel rested, energized, confident, creative and happy in 20 minutes
Examples of How These Programs Can Be Structured
Our mindfulness programs for corporations can be structured according to the schedule that you believe most employees will utilize. We have created some examples below of how these programs may be structured.
Program #1 (our recommended program)
Two (2) 30-minute classes per week for 3-months. These would be taught on two separate days at the time of day that would attract the highest attendance(1).
Program #2
One (1) 60-minute class per week for 3-months. A 60-minute class offers employees the ability to interact with the instructor and ask questions regarding any difficulties they are facing as well as how to address different challenges.
Program #3
Five (5) 15-minute classes. One (1) class per week.
These would be taught at the time of day that would attract the highest attendance(*).
Ideally, this class would be offered at 11:30am, 12:00pm, 12:30pm, or 3:00pm. These 15-minute classes will allow your employees an opportunity to rest, recharge, and refocus.
(*)The best times of the day to obtain the highest employee turnout/participation are 8:30/9:00am, 11:30am, 12:00pm, 12:30pm, and 3:00pm.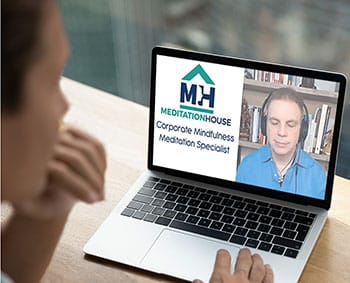 Meditation House has been providing Mindfulness Meditation classes and programs to corporations since 2015 and specializing in virtual Mindfulness for employees since January 2020.