Virtual Mindfulness Meditation Classes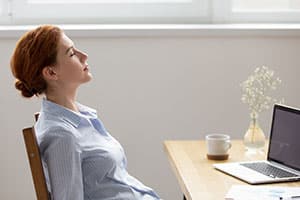 Corporate virtual Mindfulness Meditation classes are now in high demand. This is in part as a response to the Covid-19 (Coronavirus) pandemic. As many companies have been forced to furlough their employees, organizations are seeking solutions to keep their employees healthy both mentally and physically.
Employees working from home are facing high levels of stress and encountering anxiety symptoms including panic attacks. These negative mental states are generally being caused by fear. People fear becoming ill due to the Coronavirus. Employees are also fearing the loss of their jobs and all the economic hardships that come with the loss of a job.
Mindfulness Meditation classes are tools that employees can use to calm their minds and calm their fears. By meditating on a daily basis with a professional teacher, employees learn how to stop their minds from gravitating towards worst case scenarios. They also learn how Meditation can open their minds to creative ways of looking at problems.
Virtual classes are conducted via Zoom, Skype or teleconference rooms. Employees can connect with these classes via desktop computers, laptops, tablets, smartphones, and landlines. Some classes are taught via video while others are audio only. The length of each class is 30 or 60 minutes long.
In an effort to support the participants in these classes, we can record (with the permission of the organization) these classes and give the recording to the organization. These recordings are invaluable tools that allow the participants to continue meditating whenever, and wherever, they wish.
We also provide an 11-minutes guided audio Meditation file that participants can also use to support their Meditation practice. This audio file is a basic guided Meditation that is intended to calm the body and mind, release stress, reduce anxiety, and to bring about a very positive feeling.
What are the fees for these classes?
The fees for our virtual Meditation & Mindfulness classes are determined based upon the length of the class (i.e. 30 or 60 minutes), how many people will be participating, and the number of classes we will be teaching (e.g. one class, once each week, twice each week, etc.). As a general guideline, our corporate virtual Meditation and mindfulness classes cost between $250 and $350 per class.
We understand that many organizations are facing great financial challenges during this time. To help organizations facing financial challenges, we are willing to offer our corporate virtual Meditation and Mindfulness classes at rates that they can afford.
Below, we have listed two of our most popular classes. To request a class other than our currently offered classes, or to send us your questions, please fill out and submit the form at the bottom of this page.
INTRO TO MINDFULNESS MEDITATION CLASSES
This class will teach anyone how to meditate. Meditation is a practice that people utilize to bring about a change in that person's life. This may include:
reducing stress
removing anxiety
regaining physical health
focusing the mind
tapping into creativity
and more
This is a simple step by step process where people learn how to use body scan and breathing techniques coupled with guided imagery to enter into the meditative state. This is a 45-60 minute class. The most effective version of the class is a 60 minute class. However, we have found that some organizations like to have two 15 or 30 minute classes where we teach people how to meditate in the first class and then review the steps in the second class. In addition to teaching people how to meditate, we include approximately 15 minutes at the end of the class for a question and answer period. At the end of the class, the recorded version of the class, as well as an 11 minute guided daily Meditation audio file, is sent to the organizer so that they can distribute this to the attendees. Book This Class Here
ONGOING SERIES OF CLASSES
Meditation House offers virtual Meditation and Mindfulness classes to employees as 15, 30 and 60 minute Zoom classes. Our programs are typically booked by corporations for their employees 1-2 times per week. These classes start with 2 Intro to Meditation classes. Once employees learn how to meditate, they can then use this new tool any time they wish. After the Intro classes,  we then lead meditations with different themes. These themes allow every employee to address different challenges they are facing. For example, one employee may not be able to sleep while another employee has turned to binge eating to comfort themselves. The themes include:
how to calm and relax the body and mind
how to enter into deep states of relaxation
how to reduce stress
how to avoid and address anxiety
how to reduce and remove fear of becoming ill
how to reduce and remove the fear of financial difficulties
how to deal with insomnia
how to focus the mind and tap into creativity
how to tap into positive thoughts and emotions
how to avoid and address overindulging in eating
how to avoid and address depression
and so much more
Virtual Mindfulness Meditation Class Request
If you have specific requirements that our current list of classes do not address, please fill out and submit the following form.